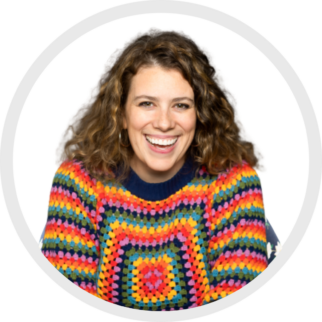 Marlena Calaba, LGSW (she/her/hers)
Sees Adults.
People come to therapy for many different reasons: maybe you find
yourself facing a life transition, experiencing a recent loss, maybe you
are engaging in the same conflict over and over again with your partner
or you want to understand a historically difficult relationship with a better
your body…No matter your inspiration for seeking a therapist, I feel
honored to hold safe, warm, nonjudgmental space for you as you
bravely navigate the waters of your life.
In my therapeutic setting, you can expect an 'inside/out approach. We
will hold curiosity towards some of the deeper roots and larger reasons
why you are experiencing whatever challenges you face and we will talk
about DBT skills that can help you better meet and manage conflicts
and distress 'in the now.' You will develop a toolbox that will help you
respond to life's inevitable 'ups and downs as well as partake in a
process of healing that will include work around your nervous system
responses, mindfulness, and understanding your 'parts.'
I firmly believe that people heal and grow most fully in relationships to
others and I look forward to partnering with you on your journey.
Location(s) of Practice: Golden Valley
Visit Types: In-Person and Telehealth
Accepting New Clients: No
Marlena does keep a waitlist. To be added to Marlena's waitlist,
please email marlena@vandacounseling.com.